The idea for a narrative song based on a repeating 5-bar sequence first came to me in the early 1990s, initially as an autobiography. I only ever wrote the first line ("It started in the Spring") and then abandoned it, but the musical idea stayed in my head. In 2015 a suggestion was made at artSBridge (the arts support group in Sowerby Bridge) to organise an artistic event to celebrate the fact that the town has the deepest canal lock in the country, and I wrote this song using the musical ideas I'd had 20 years earlier. In the end the event never took place but I felt the song was good enough to stand on its own.
Later in 2015, while making a film about Branwell Brontë and his time in the Calder Valley, it occurred to me that the music would make an ideal basis for a song to accompany the closing credits of the film, so I wrote new words and the result was Legacy. I still felt, however, that the Ballad of Deep Lock should eventually see the light of day in its own right, so here it is as originally conceived.
I would describe it as an electronic folk ballad with a prog rock style interlude in the middle. Because I hate under-complicating things, this interlude is in 11/4 time.
Despite my best efforts, I'm still a crap singer. Sorry.
Click on the image below to hear the music accompanied by a slideshow of 145 photos of the Calder Valley. Click on the player below it for the music only.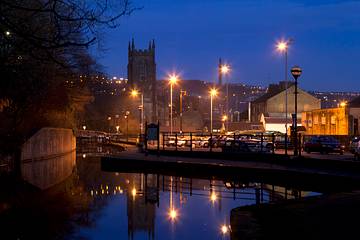 ---
© Alan Wrigley 2018